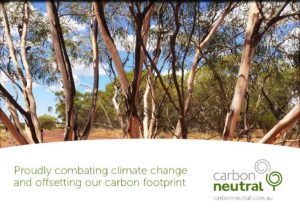 Recognising the often unavoidable carbon footprint of our activities, we have partnered with Perth-based company Carbon Neutral to offset our calculated CO2 emissions from air travel completed during the 2017/18 financial year. The offset includes all domestic and international flights for our staff and volunteers to client sites and conferences.
Our General Manager, Dr Paul Whittock said "We believe our company has a responsibility to manage its overall environmental footprint and strive towards a more sustainable future. Offsetting our air travel CO2 emissions in this manner is just one small step we are taking towards this goal. Partnering with a recognised organisation such as Carbon Neutral adds another level of integrity to our environmental actions".
The offset involves the purchase of Biodiverse Reforestation Carbon Offsets from the Yarra Yarra Biodiversity Corridor. The plantings, using native Australian trees and shrubs, are helping to join small patches of remnant vegetation. Besides the all-important role of sequestering carbon from the atmosphere, the trees and shrubs help to reduce salinity, water and soil erosion, and provide habitat for the endangered Carnaby's Black-Cockatoo, Malleefowl and other threatened flora and fauna.