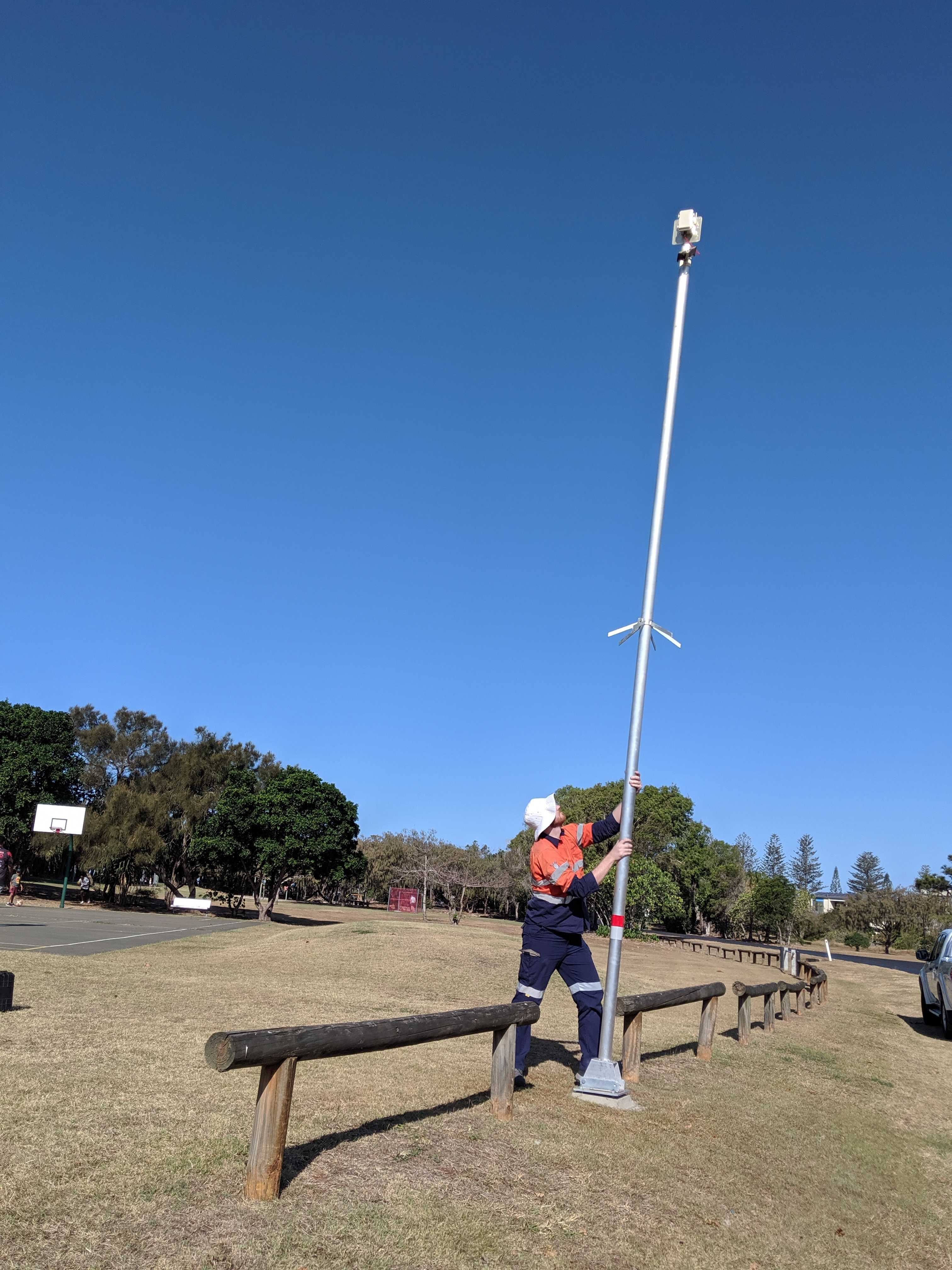 Sometimes, when it comes to monitoring a potential environmental impact, it's not about reinventing the wheel, but adapting the technology we already have to suit the needs of our clients and the landscape we're working in. 
This is exactly how we've approached one of our most recent projects with Bundaberg Regional Council in Queensland. As part of their Reducing Urban Glow Project, the Council needed to monitor light across a wide area (over 10 km from Bargara to Burnett Heads), and use this information in conjunction with turtle monitoring data, to mitigate its impact on hatchling turtles at local nesting beaches.
To achieve this, we developed and installed a network of solar-powered, wireless, light monitoring sensors to measure the amount of light pollution in the sky and upload this information to a publicly available 'heat map' that shows how the light levels change in real-time.
Project Lead Adam Mitchell, Mechatronics Engineer Christian D'Abrera and Junior Technical Specialist Scott Dredge developed sensors that incorporate a Sky Quality Meter for measuring light and an infra-red sensor for detecting cloud. The sensors, mounted on 6 m posts supplied by Bundaberg Regional Council, wirelessly upload light and cloud data (using LoRaWAN technology) in real-time during the night over distances up to 10 km. 
To those in the know, this may not be an entirely new concept. It's true there are other wireless sensors out there, however none of them met all of the specific requirements of the Reducing Urban Glow Project. The Pendoley Environmental designed sensors capture scientifically and biologically relevant data, are weatherproof and solar-powered, and transmit data wirelessly in real-time over long distances.
These factors mean once in place, little to no human input is needed, which adds flexibility to where the sensors can be located, too. 
Along with monitoring and reducing the light impact on the local turtle population, this project, and the publicly available heat map, also helped raise awareness within the local community about the effects of light output in their area.
This project has given us the opportunity to develop technology that gives real-time data and allows us to analyse changes over long periods of time. As well as its benefits and uses in monitoring light impact on wildlife, it could also be a cost-effective method to monitor light in towns and cities to gauge its impact on humans, or by industry, in mine sites, for example, to see how light changes during different phases/activities of the development (i.e. from baseline to construction and on to operations).
The Reducing Urban Glow Project is supported through funding from the Australian Government under Round 2 of the Smart Cities and Suburbs Program. Project partners include: Queensland Government's Department of Environment and Science, Ergon Energy, Burnett Mary Regional Group, Central Queensland University, Greenfleet (acting on behalf of The Prince's Trust Australia),  Bundaberg Tourism and Sea Turtle Alliance. 
If you have any questions about how this technology could work for your business or industry, contact Adam Mitchell (adam.mitchell@penv.com.au).